After a night of mediocre performances Tuesday, the preview for last night clearly set the five performers up even before the eliminations took place.
There was nothing surprising about this week's America's Got Talent results except for the fact that America didn't mind the more flamboyant efforts.
Let's break down how it all played out ...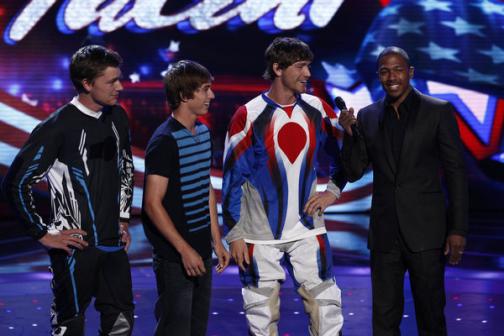 Eliminations, Part 1: The Rhinestone Ropers, Thomas John, Silhouettes
- The Rhinestone Ropers failed because they thought that an animal performance would have been dynamic, but after so many failed bird acts it was inevitable that they would be cut. The fact that there was no dog act this year should have signaled the Ropers not to try the horse. With two X's Thomas John's hopes were pretty slim.
The Silhouettes were through easily. Sure they may have pandered to the American theme, but I just hope that they will do shapes that could stand on their own without any projections to help America.
Guest Performance: Hot Chelle Rae "Tonight Tonight"
- Is anyone else reminded of Michael Cera when staring at lead singer Ryan Follese? The performance wasn't here or there. At least the vocals weren't lip synced.
Eliminations, Part 2: Steven Retchless, Attack Dance Crew, Geechy Guy
- Attack Dance Crew was rough around the edges and they didn't play up the black light aspect that they could have. Geechy Guy was subjective; on second viewing, it wasn't as funny.
Again, in a night of mediocre performances Steven made it through without the judges having to pick him. Steven's routine may have been a bit over the top and risky, but he now has time to tweak his performance. Seeing Steven in the results, he shouldn't have painted his face.
Eliminations, Part 3: Daniel Joseph Baker, Dani Shay, Dyllan Andre
- Dani was pitchy and Dyllan was boring. It's a shame seeing that making fun of Justin Bieber was Dani's peak on this show. Daniel was fierce and made it through, proving again that America was a bit more open than I expected. Maybe Howie's suggestion of adjusting to Middle America was moot.
Guest Performance: Traces
- So the gist of Traces is that they are the street version of Cirque Du Solei? They don't have to wear silly and somewhat scary clown outfits but instead focus on cool sequences. The parkour moves on the two stripper polls showed that men could do motions that were still very masculine, and Steven should be worried.
Eliminations, Part 4: Smage Brothers, Mona Lisa, Landon Swank
- The three acts actually provided performances that were solid. Mona Lisa's performance sounded better in playback but with Daniel through, I thought that Mona Lisa would be redundant. I was reminded that the Smage Brothers routine looked just like last season's Jeremy VanSchoonhoven except with motors.
Landon had a great trick, but he seems destined for the Wild Card round. Mona Lisa was eliminated leaving the fourth and fifth place as Smage Brothes and Landon to the judges. The vote went to Sharon first and she voted for the Smage Brothers. Piers voted for Landon. We finally got to hear a third vote and Howie voted for the Smage Brothers.
Landon would be the only performer that deserves a second chance. His routine wasn't bad, but he needed to wow us and he didn't. The mirror routine would have fit perfectly between epic explosions and disappearing acts in a full Vegas show, but it didn't work for a 90 second performance. The only other group that deserves a second chance are the Rhinestone Ropers if they promise not to have the horse.
What do you think of last night's America's Got Talent results?