jolie Raise kids i name
Got a source for that?
Loving v. Virginia (1967)
Marriage is one of the "basic civil rights of man," fundamental to our very existence and survival.... To deny this fundamental freedom on so unsupportable a basis as the racial classifications embodied in these statutes, classifications so directly subversive of the principle of equality at the heart of the Fourteenth Amendment, is surely to deprive all the State's citizens of liberty without due process of law. The Fourteenth Amendment requires that the freedom of choice to marry not be restricted by invidious racial discrimination. Under our Constitution, the freedom to marry, or not marry, a person of another race resides with the individual and cannot be infringed by the State.
(emphasis added)
Skunk already quoted the Universal Declaration of Human Rights Article 16, so I don't think I need to quote that again.
Of course not, but then again, I've never needed a license to vote. Have you?
People also have to get gun licenses, but that is clearly a right under the Constitution.
Licenses do more than extend a privilege; they can also be helpful in administering the rights that we have.
Conversely, I do not require a license to speak my mind in public,
Actually, you might depending on when and where you wanted to speak. Parades need permits and most large protests have to be cleared beforehand so that traffic can be allowed to flow around it. All of these are handled by licenses.
Brad Pitt and Angelina Jolie
Rodimus Prime
Oct 7, 06:06 PM
Valid points, except you're looking at a micro-niche of power-users, while the iPhone's massive growth comes from a much broader market than that. Android will (and does) take some power-user market share, and I look forward to seeing where it goes.

The big thing though is DEVELOPER share. Apps. Android will run--in different flavors--on a number of different phones, offering choice in screen size, features, hard vs. virtual keys, etc. That sounds great--but will the same APP run on all those flavors? No. The app market will be fragmented among incompatible models. There's no good way out of that--it's one advantage Apple's model will hang on to.

I was thinking about it and come to think about it the different flavors of phones still comes down to the OS being the same. Just look at OSX and Windows, people test it on the OS but do not test it on all the hardware configurations. Hell if you just go with Macs you have an insane number which is small compared to windows.

You test it on the OS and call it good you might test it on 2-3 types of hardware if you are being very careful but most of the time if it works on one it is going to work on them all.. Android will be the same.
---
Angelina Jolie Adopts Without
A lot of people seem to believe Greenpeace has fabricated their data. (Which would be pretty stupid since it can be checked!) But if so, why not put Dell at the bottom for publicity purposes? That makes more sense than Acer if this is all lies instead of research.

And I don't see people offering their OWN research :rolleyes: People are just saying Greenpeace is lying because they WANT it to be lies.

I sympathize. I want Apple AND the rest to be at the top of the scale. I want it all to be lies.

But wanting something is not enough to change reality.

Luckily, there IS something that can change reality: ACTUAL change. THAT is what will make the Greenpeace-phobes right: when Apple and the others change to become what you wish they already were. We all wish it, and I believe it will happen. Recognizing the problems is an unpleasant but necessary step on the way.
---
Angelina+jolie+rad+pitt+
ryme4reson
Oct 11, 02:14 AM
If you know about programming languages, and still refuse to accept the scores on the test, check this out:
Here is the code snippet in question: (C not java, for the sqrt function)
double x1,x2,x3 ;
down Angelina+jolie+kids+
Sorry for the noob question, but does anyone know how well Maya 7 will scale with 8 cores? My buddy is debating whether to buy a single Kentsfield or step up to dual Clovertons. He has a freelance business in which he uses Maya 7 quite a bit. Thanks.
---
Brad Pitt and Angelina Jolie
This whole argument is asinine.

If you don't have a PC, there's nothing that you need to "sync" or "move files" from. And the iPad works perfectly fine on its own.

You're saying that "if I have files on my PC, I need a PC to get them to my iPad". No kidding!

When you use your iPad2 to take photo's with or video files, how do you arrange all your photo's and video's into nicely structured collections?

You make folders, like "Kids Party", and "Summer Holiday 2011" or "Mike and Julie's Wedding" and keep all the relevant photo's neatly organised.

Or do you just dump everything mixed up in one folder?
---
angelina jolie son,
citizenzen
Mar 27, 07:37 PM
What does "anti-gay" mean?

It means that his motivation is to get rid of the gay and not necessarily the welfare of his patient.

For instance, a sex-change doctor/therapist wouldn't care if he's treating a man who wants to change into a woman or a woman who wants to change into a man. They're just there to facilitate whatever change the patient seeks to make.

I doubt your doctor would ever consent to changing the orientation of a straight person to gay, because he's not interested in facilitating his patient's needs, he's really only interested in forwarding his own (anti-gay) agenda.
---
BRAD Pitt hates it when
Apple wasn't very quick at adopting the Core2 chips (which are pin-compatible with Core chips), what would make Clovertown any different?

The C2D was a general upgrade that applied to every MBP sold where as
Clovertown may be a build to order option.
---
Angelina Jolie Brad Pitt.jpg
Digital Skunk
Apr 13, 01:49 PM
I thought it was mentioned that all keyboard shortcuts were still there so I don't get what the concern in that post is about

It was mentioned in this thread with nothing to back it up. So far, with all of the video that's now on the web, there's no mention of shortcuts, remapping, etc.

There should always be concern when upgrading to a new app or system. Once you've made the mistake of not having concerns or questions too many times, it'll be second nature.
---
Below are the names
If I have a mini, couldn't I use it as an iTV with frontrow? Why would I get an iTV when I can get a refirb mini for $200 more, when it can do more?

Because that ties the computer to your TV (see my post about teetering keyboards above). This way you can have the computer and still display stuff conveniently on the TV, wirelessly.
---
Pitt and Angelina Jolie
To quote one of your articles:
Notice the part about it being used to test a wide variety of fuels and machinery? Also the fuel temperature instabilities? That's what caused the Cs-137 and Sr-90 contamination, as noted above. A reactor that's properly designed (with properly fabricated fuel) won't have the disadvantages of a test reactor, and shouldn't have that contamination. I'm not saying it's perfect now, but controlling those instabilities shouldn't be an issue, especially in light of salt or liquid fuel possibilities. Furthermore, what about MSR? It's not a pebble bed; it's molten. That itself should even out the fuel temperature instabilities a little, just the liquid fuel based system.

You raise a very valid point about Thorium, however I think one instance of a test reactor hardly justifies dinging the entire concept because the initial reactor wasn't designed well (see the cracked bottom of the AVR...), but rather it serves as a basis for future designs. Also, what about India planning to use thorium? They're not approaching this with guesswork-- there's clear advantages to using it over uranium. Differences in opinion I guess, but hey, to each his own.

EDIT: Also, I know my initial wording was a little fuzzy; what I meant to say was PBR with uranium, and MSR with thorium-- at least for now.

the second link actually is the "power-delivered-to-the-grid" 300 mw powerplant ... not an testing reactor
in reality creating the pebbles and preventing the pebbles from cracking was also highly difficult (and costly)... the production facility for them was afaik also involved in some radioactive leakages

i have nothing against further testing out reactor types or different fuels if it means finding safer and more efficient ways for nuclear power plants but the combination peddle reactor + thorium has been neither been safe nor economical (especially the pebble part)

also two general problems about the thorium fuel cycle:
- it actually needs to the requirement of having a full scale fuel recyling facility which so far few countries posess, of which all were in involved in major radioactive leakages and exactly none are operating economically
- Nulcear non profileration contract issues: the 'cycle' involves stuff like plutonium and uranium usable for nuclear weapons being produced or used: not exactly something the world needs more

perhaps a safer thorium reactor can be constructed but using it in actually power production is still problematic
perhaps MSR can solve the problems but that technology has yet to prove it's full scale usability especially if the high temperatures can be handled or if they have a massive impact on reliability on large scale reactors
it might take decades to develop such a large scale reactor at which point cost has to come into play wether it is useful to invest dozens of (taxpayer) billions into such a project

i'm just saying that sometimes governmental money might perhaps better be spent elsewhere
---
rad-pitt-angelina-jolie-
What are we on now, like, the 3rd rev. of the iPhone hardware? Think back to the 3rd rev. of the iPod (I don't even think that version had a color screen yet.) How about the third rev. of OS X? Third rev. of the iMac?

I think one thing speculation like should should take into account is that Apple is incredibly aggressive about updating their products and what lies ahead can often, drastically change the playing field.

Remember the end of 2006 when the Zune was announced and everyone was running around spazzing out about how dead Apple was and all the usual Microsoft cheerleaders in the tech press were practically wetting themselves in excitement? And a mere month later, what happened? The iPhone was unveiled and all but nullified the Zune.

I think anyone engaging in this kind of speculation should keep that in mind.
---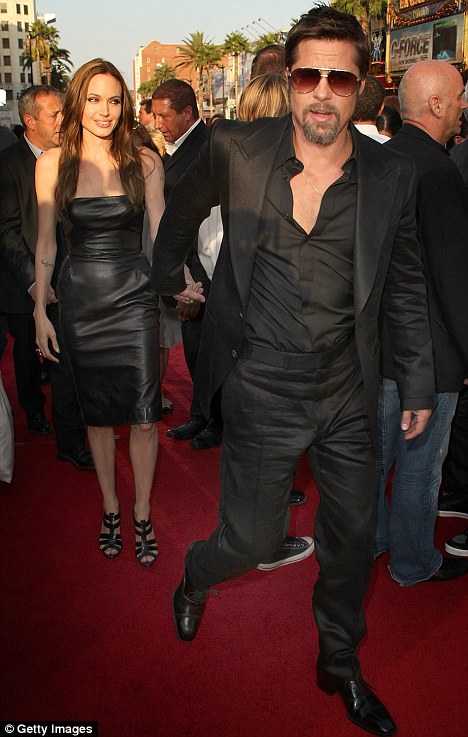 Angelina Jolie and Brad Pitt
Yeah! My battery lasts for upwards of two days. Definitely not comparable at all to an iPhone.

Inferior interface is subjective, and you've given no reference so that comment is irrelevant.

Name me one app that you have on your iPhone that doesn't have a similar if not identical app on the Android Market.

Camera+. With the new Clarity feature it is easily the best camera app on any phone. And it doesn't come in Android.
---
Brad Pitt and Angelina Jolie
Factor in the Japanese culture where self-sacrifice for the good of their people is looked highly upon. I'd say there's a damn good chance they know their killing themselves, but will continue to work to their ends.

while the situation is very,very serious i think it's still on the level of a controllable risk to health if the operators are rotated enough/monitored and depending on exposure are protected with equipment
especially if radiation leaks are limited to very short time frames

it's still a far cry from the stuff what some firefighters/engineers did in 1986 to prevent worse

Curious. You are suggesting that the control rods are fully seated (we would hope), absorbing the entire natural neutron flux, thus completely dampening the fission process (apart from the normal spontaneous fission of the 235 in the fuel pellets). Yet, the cores are still producing significant heat, sea water is being pumped over them to cool them, a real danger appears to exist. Where is that heat coming from, why, if the fission process has been choked off, are they not simply losing heat (cooling down like a big hunk of metal)? What are we missing?

that is somehow baffling me as well: the heat should be dropping at a logrithmical rate after an emergency shutdown and thus within 24 hours the heat should have dropped very fast

yet today is tuesday and still cooling problems it just doesn't sound correct. might there some design deficits at work ? like control rods not really adequate sized? or is it simply because of partial meltdowns/damages inside the reactor ?


edit: getting really serious now: according to a japanese news outlet a reactor control room has been evacuated because of radiation
---
Brad Pitt and Angelina
ReanimationLP
Oct 14, 03:38 PM
Wow, the Quad Xeon is the Pentium D all over again!

The Quad Xeon is two Dual Xeons glued together, and the Pentium D was two Pentium 4s glued together.

Its still faster than the Dual Xeons, but it isnt as good as it can be.
---
Brad Pitt and Angelina Jolie
Multimedia
Oct 30, 08:20 PM
I am also of the opinion that Apple should not sell the 512MB FB-DIMM modules since they only run at half-bandwidth of the 1 and 2 GB modules. Or they should offer the ability to buy the Mac Pro with no RAM. That would be interesting. I'm not sure if they'd go for selling a system config that would require a third-party purchase just to make it work.Doubtful. What I'm hoping for is a base of two 1GB sticks, losing the two 512 sticks as you say they should end selling with this update. An 8-core Mac Pro would not run very well with only 1GB of slower RAM. I believe an 8-core Mac is going to want 8GB of RAM to run properly but I imagine 4GB would be enough for fairly decent operation. Depends on your apps. The ones I like to run don't use much RAM at all.
---
Angelina Jolie and Brad Pitt#39;s
The delete thing bothers me a bit. What do you mean you can't move up? You mean with backspace? There is a preference in finder to show entire path so I never have trouble navigating up folder structure. If you are used to Vista and leaning toward 7, perhaps OS X isn't for you.

It's really not about how I delete things, nor is it about the pretty colors. It's about how much of my time I have to spend futzing with stuff like broken drivers, missing printers, yada yada yada.

I will admit I wasted a few hours this week chasing a Time Machine issue but that's about all the futzing I've had to do since about November. I'm willing to deal with the limitations and quirks of OS X because OS X doesn't waste my time. And it wasn't something I had to do in order to send my taxes or print out show tickets. I did it when I felt like I had the time, unlike so many windows problems that crop up on the way to an important meeting. I haven't seen an "are you sure" on my Mac since I got it. To me sometimes it seems like Windows was written to harvest clicks while OS X was written to avoid unnecessary user intervention.

Sure there are some quirks. Like the way copied folders are replaced, not merged with destination folders. Like the missing "cut" and "delete" features. But for me these quirks are no big deal and I look forward to sitting down in front of my Mac after suffering with 7 all day at work. But what we say in this thread isn't necessarily relevant to your situation. Based on what we have described, you can get a sense as to how "different" OS X is. To me, it's really not that much different. What is more important is how different it is to you and whether it bothers you.

Your comment about "suffering with 7 all day" is surprising to me. I don't know if I've seen Windows 7 experience a full OS crash. And I've been toying with Win 7 since it was in beta.

Sure, it ain't perfect, but I find Win 7 pretty darn efficient overall. I haven't encountered any OS related issues with 7 yet. Application quirks, sure, but not really any OS problems.

I'd say OS X and Win 7 are much more comparable than Vista or XP.

Again, it comes down mostly to what you need a computer to do.

Cheers, all.
---
SEE PICTURES Angelina Jolie
dawindmg08
Apr 13, 02:34 AM
For those of you complaining that this update isn't "Pro" enough, please read through the list of features on this page:

Supermeet Live Blog (http://www.photographybay.com/2011/04/12/final-cut-pro-user-group-supermeet-liveblog/)

There are tons of great ideas here, and I already see a lot of things that will speed up my workflow. There are tools that I have to buy as expensive plugins which are now standard. And simple, common sense approaches to media management that I'm surprised we've worked without them this long (Video and audio LOCKED from ingest? No more sound out of sync? Yes please).

And yet, you all look at the UI and go "eh, it's iMovie Pro". Bitch, please.

And they haven't 'dropped' all the other apps, they just didn't announce (http://www.loopinsight.com/2011/04/12/apple-says-stay-tuned-for-other-final-cut-studio-apps/) anything yet.Hopefully the pricing will be competitive with the other NLE suites and those of us upgrading from the current FCS won't feel ripped off. So just be patient, wait until June and see how it all shakes out...
---
jolie-pitt angelina jolies
To be honest I really don't care what green peace thinks. I wonder if you took all advancements that have benefited humanity made on macs versus all the work greenpeace has ever done who would come out on top. We definitely need to watch out for the environment but we need to do it logically not emotionally. Greenpeace is nothing but a group of eco-terriests in my opinion.
---
Funny bit of irony - I went to Lake Placid NY for a sports competition last fall where a main sponsor was AT&T - logo on the side of the boards, booth set up etc.

Tower went down second day and there was zero service for 24h. :o

Now that AT&T offers a Canada plan with no extra long-distance fees, I may actually start talking on my iPhone for more extensive periods of time. Should be interesting to compare with Verizon...so far my frustration in NYC has been more over unavailable/slow internet connection than dropped calls.
---
i've used windows as long as the OP. Mac OS X is great and there is nothing i can say you wouldn't like about the OS, but i still get stomach aches from the lack of software and hardware options for Mac users. it is a totally different world. there is just so much more developed for Windows. Apple must make it extremely difficult to develop for Mac. i am an audio engineer and i'd be using a different DAW if i could (i have to use Logic) and i wanted more options for my hardware interface, but i'd have picked this one anyways (RME Fireface, i actually picked it because it was compatible with Windows as well). also, i miss all the DIY and homegrown freeware you could get for Windows. DIY Mac developers don't like to make as much useful stuff. so, as a result, i could always get more done with Windows.

Bad:
Less software options
Less device/peripheral options
Dealing with Apple as a company. They want too much money and find tons of ways to get it.
---
matticus008
Mar 19, 06:00 PM
He just wants to play his music on Linux, is there something wrong with that? Are you saying that Linux is bad, and Apple is good? Do you think that Apple is doing the right thing by not preventing these issues in the first place (by failing to open up technology standards or port multimedia software to other operating systems)? I really don't think that it would be terribly difficult to port iTunes or Quicktime to Linux.

Yes, there is something wrong with that. You agreed when you created your account that you would use iTunes. You as a citizen, agree not to break the laws. Using iTunes songs in Linux breaks both of those agreements. Linux is great (I'm a Linux sysadmin, as a matter of fact), but you know going into a purchase agreement that iTunes does not support Linux. Apple should make iTunes for Linux, sure. But violating the TOS and breaking laws left and right isn't really going to convince them to do it.

If you have Linux, then iTunes really isn't a legal option for you. Get your music elsewhere and write a letter to Apple, or use another computer for iTunes and use CDs or one of the thousands of network audio streaming packages available for Linux. You do not have the right to break DRM or to use something other than iTunes to get music from iTMS, period. It's that simple.
---
Somehow this doesn't surprise me at all. However, this is one more reason to stick at 4.1.0.

So far, the only real reason for 4.3.0 is Personal Hotspot, but since that is being monitored, then, I'll be happy to stick in 4.1.0 and give the finger to AT&T.
Per the posters on Mod MyI its all IOS's that have been targeted, its At&t system that was upgraded at&t rep stated this was a roll out against the high use people, yet a few got the message who used low data, not sure since it was based on history and not current.:confused:
---
Can you for once write something truthful? Why are you even here. Windows viruses are more rampant than ever before, trust me I remove them for a living and it eats up a good chunk of my work week.

As for your constant "fanboy" comments I think calling people "fanboys" should get you the ban hammer. No one wants to hear it anymore. They just don't. Oh, and for the "koolaid" cliche? Real original :rolleyes: Haven't heard that a million times.

You obviously know nothing about Windows or Mac if you honestly believe the FUD you constantly put on this forum.

Agreed. Also, "fanboy" counts as a personal insult, which is against the rules. I almost got banned for calling some moron a moron (he was complaining about how he didn't care about an article, and I asked him why he clicked on it).

If that guy thinks that MACDefender (not a virus) is an issue, he would faint if he saw a Windows virus.
---