It seems like production value of So You Think You Can Dance went up this week in hopes that Nigel Lythgoe could get another Emmy nod.
A few extra camera pans in the beginning and increased set lighting, along with Cat Deeley's always cheeky hosting and guest judge Neil Patrick Harris' best fanboy comments, made for a fun night on the hit Fox competition.
The show definitely brought out the big guns, past and present, as the 10 remaining dancers competed to advance. Let's break down the performances ...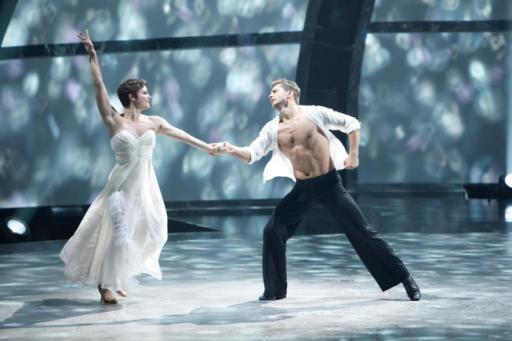 Marko & Chelsie: Samba (Jason Gilkison)
- Just like on Dancing with the Stars, you just can't keep your eyes off of Chelsie and Jason made sure that there were sections where only Marko was dancing. The dance was filled with really hard choreography and Chelsie was swinging everywhere; while she kicked Marko in the head in practice, everything went perfect in the dance. Marko did a good job keeping up with Chelsie and that's all that he needed to do to succeed.
My Grade: A-.Sasha: Solo
- While Sasha was a bit wobbly in her first pose, she upped the complexity of her solo this time around had a strong combination of ground work and aerial movements. Her solos have improved since she landed in the bottom three.
Jordan & Brandon: Contemporary (Dwight Rhodan & Desmond Richardson)
- The dance was a run-on sentence of contemporary movements. Jordan looked effortless during the whole routine so the dance must have been catered to Jordan and Brandon's strengths. The side-by-side choreography was some of the strongest this whole season. Brandon did a great job supporting Jordan without stealing her spotlight.
My Grade: A-.
Jess: Solo
- Jess depended on his really strong spins and his dropping split. There was nothing wrong with the routine; he hasn't evolved his Broadway style. The best part of his performance was his interaction with Cat after his music ended.
Tadd & Comfort: Hip-Hop (Chuck Maldonado)
- There's something hysterical about having the Asian performing to something yellow. Tadd was the focus of the routine. The two were a bit off during the Busta Rhymes lyrics, but it's pretty hard to choreograph to.
My Grade: B-.Melanie: Solo
- There was something really cool about Melanie's execution. While the dance was difficult, it still looked effortless.
Mitchell & Melody: Broadway (Tyce Diorio)
- Tyce wanted to do a "first class" Jazz/Broadway hybrid, but it was coach. I'm not a fan of Tyce's Fosse-inspired routines because it looked like knock-off choreography without the Fosse finesse. As much as the two were in sync, I couldn't help but look at Melody because Mitchell was dressed up like a generic flight attendant.
My Grade: C+.Ricky: Solo
- Ricky aced his leaps and turns, his solos being the biggest reason he survived past his original partner Ryan. He needs a change of pace in his song selection.
Clarice: Solo
- Clarice's sexy routine worked well, the minute work of her ponytail whipping was captivating. Her choreography shifted well when the tempo increased.
Caitlynn & Pasha: Argentine Tango (Miriam Larici & Leonardo Barrionuevo)
- There was something great about seeing a tango that started off slow and picked up, even though it threw Neil Patrick Harris off. While I thought there was a point where Caitlynn tripped on her own shoe, Caitlynn never stumbled. Caitlynn's legs were flicking everywhere as Pasha supported her the whole way. The two had passion and didn't over perform.
My Grade: A.Mitchell: Solo
- Mitchell choreographed a routine that built along with the music he chose. His spins were strong, but that was basically all that he did for his limited time.
Sasha & Twitch: Hip-Hop (Christopher Scott)
- The dance was about a fizzled out relationship, where Sasha wanted to create passion over breakfast. Sasha's dancing was strong and the focus was all about Sasha. The dance, just like the Argentine Tango, had a great voyeuristic nature to it where it was just a couple rekindling their relationship.
My Grade: A.Jordan: Solo
- Jordan finally showed us a routine that wasn't just sex kitten and this solo showed that she's actually a talented dancer. The routine felt a lot shorter because of how engaging the routine was.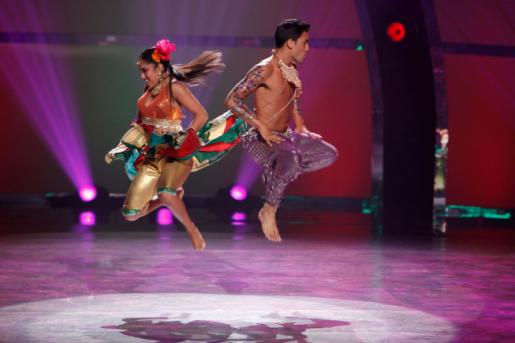 Jess & Kathryn: Contemporary (Stacey Tookey)
- The routine was everything that Jess needed: no eye contact so Jess couldn't mug for the camera and lifting heavy. Jess proved that he could do both. The routine was another Christina Perri song filled with emotion. The lifts looked effortless, though most performances that Kathryn does are wonderful to watch. I was so engaged that I forgot that Jess was shorter than Kathryn.
My Grade: A.Tadd: Solo
- Tadd had an impressive break routine that used a lot of ground work, his lean off of the stage showed great strength. As the only B-Boy dancer left Tadd saves us from a sea of contemporary/jazz dancers.
Melanie & Pasha: Viennese Waltz (Jason Gilkison)
- The routine was about nurturing an open-shirted Pasha. Melanie looked effortless during the routine that you forgot she was a contemporary dancer. I don't think I got the "supportive rock" theme, but Melanie's transitions between lifts and steps were great. The choreographers have been doing a great job with the lighting and effects and this dance was no exception.
My Grade: A-.Caitlynn: Solo
- I didn't think that Caitlynn was powerful as the Florence + the Machine song that she selected. She fell out of her last spin sequence and as pretty of a girl as she was her routine was a bit generic.
Ricky & Allison: Jazz (Tyce Diorio)
- The concept was about a bad dream and it shows that Tyce needs to stop doing Broadway routines. Ricky was effortless doing any of the lifts and jumps. The problem with the routine was the focus was all on Allison having a bad dream instead of Ricky controlling her.
My Grade: B+.Marko: Solo
- Marko went with a lot of power and never ran out of steam. His leaps were great and the fact that he was last to do his solo and first to perform was a great bookend for performances.
Clarice & Robert: Bollywood (Nakul Dev Mahajan)
- Since Nakul is the go-to guy for Bollywood routines, I'm happy he continues to push his own choreography. There were a lot of side-by-side work and both did great. While I didn't expect the kiss to be as integral in the choreography, it enhanced the routine. The intricacy of Bollywood was visually entertaining.
My Grade: A.
With playback glitching, it might be interesting to see will be eliminated, since it may depend on who went last and if people even remember the first hour.
Who do you think it will be? Sound off below!