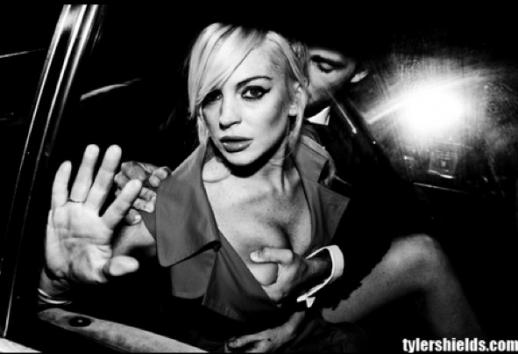 Lindsay Lohan, Spencer Falls
Spencer Falls, one half of Virgin Mobile couple "Sparah," is reportedly dating Lindsay Lohan. We can't confirm if that's true ... but check out this pic!
LiLo celebrated her newfound freedom with a photo shoot last week - her first since she was relieved from house arrest - for her friend Tyler Shields.
From what we hear, Lindsay Lohan and Spencer Falls are not dating, but that doesn't mean he can't help a girl out when she Falls out of her clothes:
What was going through this guy's head at this exact, amorous moment? Hard to say, but only a few dozen men (and some women) have ever experienced it.
We have no idea what the artistic "point" of this shoot - taken at night inside the 2nd Street tunnel in downtown Los Angeles - was, but Tyler Shields has proven adept at getting Lindsay Lohan out of her clothes over the years.
She's well on her way to that Oscar.