A badly decomposed body was found that may be tied to the case of missing Indiana student Lauren Spierer, who vanished without a trace June 3.
The body was discovered Sunday floating between some debris in Fall Creek, about 50 miles north of the Bloomington campus where she studied.
Police said Monday that positive identification from an autopsy will be difficult and may not be available today, according to the
Indianapolis Star.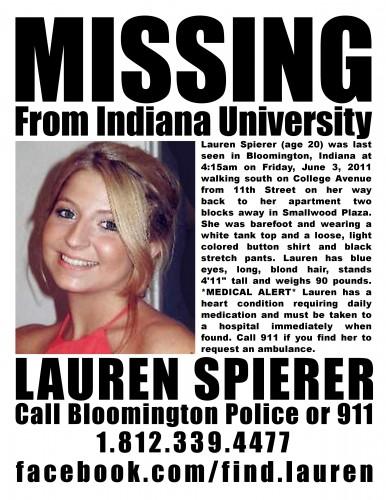 The 20-year-old fashion merchandising major from Edgemont, N.Y., disappeared after drinking at a bar on June 3. But is the missing body hers?
A local great-grandmother, 74-year-old Dorothy Mae Heard, also went missing on June 13, although her car remained in her home driveway.
On Friday, Lauren's father, Rob Spierer, joined by his wife Charlene, made an appeal for anyone with knowledge of the case to come forward.
"We are appealing to the parents of the children who may have firsthand or secondhand knowledge of what happened to Lauren," he said.
The ongoing search for Lauren has its own Facebook page and is composed of more than 1,000 volunteers and some 1,500 tips thus far.