Continuing their Canadian tour,
Prince William
and
Kate Middleton
squared off in a friendly dragon boat race Monday on Prince Edward Island.
Despite a torrential downpour of soaking rain at Dalvay-by-the-Sea, the royal couple was able to fit in the afternoon race across Dalvay Lake.
William won, but his wife was the true prize.
As couple suited up in life jackets and boating attire, the two crews were fighting over which group would get to boat with Kate Middleton!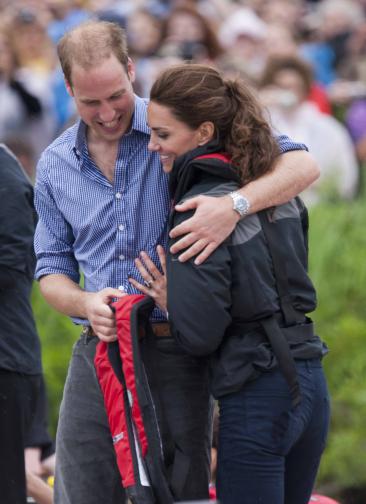 "Both he and Kate are very competitive, so I think [the race] was good," Olympic bobsled athlete Heather Moyse, who presented William with his prize of a bottle of champagne, says of the newly-married pair.
"As a female athlete, I would be really annoyed if someone let me win."
Despite her loss, Middleton remained in high spirits, telling attendee Hillary Thompson that "maybe next time" she'll get the best of William.
After the race, the 29-year-old Duke and Duchess walked along the waterfront to regain their energy by sampling local culinary delicacies.
[Photo: Fame Pictures]